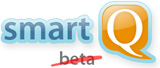 smartQ is officially out of beta now!
After months of internal testing, followed by a month of public beta, we finally decided smartQ is ready for commercial use.
We will be continuing to improve the product and implementing the many ideas we have.
All beta-testers and new users get a 30-day totally free trial, after which the account has to be upgraded to a paid one.
We are looking forward to welcoming our first clients and early adopters of smartQ!