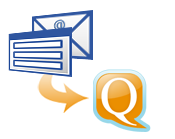 We are excited to release the biggest update of this year! It includes:
Email integration – create tickets through email and answer to email notifications directly through email [more info ]
External Form – create tickets through an external form [ more info ]
External Access – people not registered in your smartQ account can submit tickets and track their status through a simplified interface [ more info]
These new features make it possible to use smartQ as a Help Desk or Issue tracking app, with anybody being able to submit tickets without any registration.  It expands considerably the projects and workflows smartQ can manage – we are looking forward to see all the possible usages you will come up with!